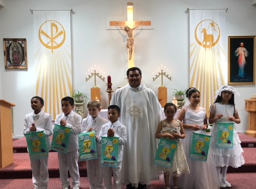 Our full time and part time staff, group leaders, and ministry volunteers are dedicated to serving the needs of the parish and would be happy to talk to you and help you in any way possible! You may directly contact a staff member from the directory below, or
send a message to the church office
.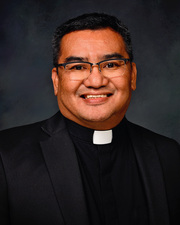 Rev. Joker "Jong" R. Bayta
Pastor
jbayta@richmonddiocese.org
Father Jong
In August 2016, Father Joker "Jong" R. Bayta became Pastor of St. Peter's and St. Richard's. Fr. Jong was born in Del Rosario, Baao, Camarines Sur, Philippines on October 1, 1969. After attending Holy Rosary Major Seminary in Naga City, he was ordained to the Priesthood on August 31, 1996. Fr. Bayta served in parishes in Camarines, Sur, Philippines in the Archdiocese of Caceres for over 17 years. His initial assignment in the Richmond Diocese was as the Parochial Vicar at St. Edward the Confessor Catholic Church in Richmond, Virginia on August 15, 2013. Prior to being assigned to our parish, he was serving as Pastor at St. Jerome's in Newport News, VA.
Parish Council
Chair

Jenny Holtkamp
Finance Council
Chair

Dr. Fitzgerald Marcelin
Other Staff & Volunteers
Religious Formation

John Holtkamp

Music Coordinator

Luz Zapanta

Altar Ministry

Stevie Thomas